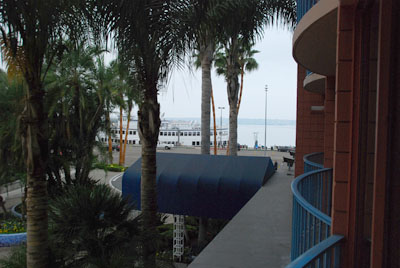 I have arrived in San Diego, and life is good. My room is huge, and I have a decent balcony view of the harbor. That blue awning below is where some suckers have to exit the building to walk over to the South Tower (Sorry, Jeremy). Overall, the hotel is fairly nice and has a great view, and there is also a neat Irish pub on the first floor (oh yeah, and a Ruth's Chris… yum.)
The jet lag has gotten the best of me this morning, but hopefully that's it. I promptly woke up at 4:30am, ready to go to work. It gave me some time to catch up on blogs, read the paper, reply to emails, etc. Things I usually don't have time for when I am rushing out of the door to go sit in traffic.
Almost time for breakfast, I'm looking forward to meeting everyone and sharing ideas/knowledge and hearing the presentations. I remember how re-energized and motivated I was after last year's conference, so hopefully I can ge some ideas to run with and hit them hard all winter in preparation for '08 yielding/Fall '09 recruiting.
Stamats took the page for the conference off of their site, so I don't really know who all we are going to hear today. I'll write more later when time permits.
Take care, and don't be afraid to say hey to me! That's me below. Unfortunately my wife couldn't come this year.