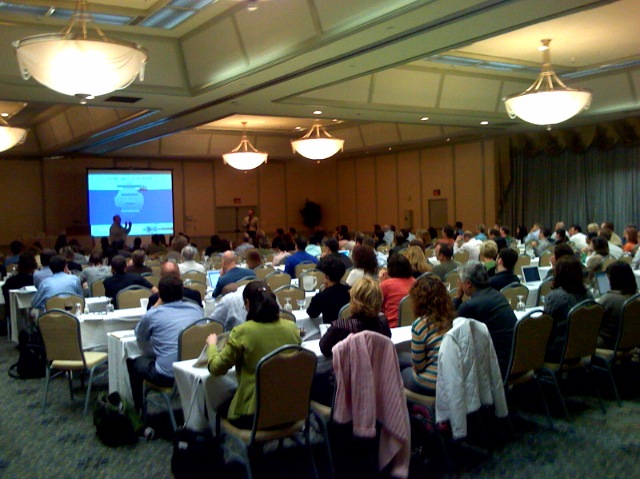 It's a packed house at the Stamats conference, with close to 180 people. That is double last year's conference attendance. It's been a good time for sure!
Today we got more into the 'implementing' side, whereas yesterday was a little more visionary. There were several solid presentations that really keyed in on some topics that a lot of people were soaking in. We had a GREAT discussion on social networking, and honestly it should have lasted a few more hours. I had so much that I wanted to say, but it wasn't my presentation and Matt did an awesome job with it. When you only get through 3 PowerPoint slides in 70 minutes, you know the audience is captivated. I think next year it would be awesome to have a 2-3 hour panel with some younger people (or those who 'get it') taking questions left and right from the rest of the crowd. Stamats, if you are reading this, count me in.
Today's big notes: I need to be doing more usability testing, I need to be digging in to my Google Analytics more, I need to be doing more with my AdWords campaigns, I need to be nurturing my blogger/forums/photos community more, and…. I need more time in the day.
I can't wait to do my first presentation.  I did a lot of presenting at conferences during college but I just haven't 'broken in' to the higher ed circuit yet. I absolutely love public speaking and I am so passionate about my job and higher education, and going to these conference just fires me up. If I can just get some 'green lights' at Butler and strike on some of my ideas that haven't been implemented at other universities, then maybe I can be giving some 'you should be doing this' talks by next year
I skipped out on the last 1.5 sessions of the day because the sun finally came out and I needed to charge my phone (no wireless internet= no laptop = iPhone to the rescue). San Diego is beautiful! To check out some pictures that I took, just click the image below to go to my website.