2 posts in 1 day?  Wow.   Guess you have a lot to talk about when you're tied up for a week.     Just wanted to spit out some more stats on a recent project — a Facebook Application.
After reading a post at CollegeWebEditor.com about what the guys at Allegheny were doing with Facebook Apps, I decided to use their tutoria and come up with something similar.  A couple hours later and the Butler University Basketball Tracker was born.  The app pulls in the RSS feed of the latest Butler Men's Basketball news releases and shows a link on the user's profile.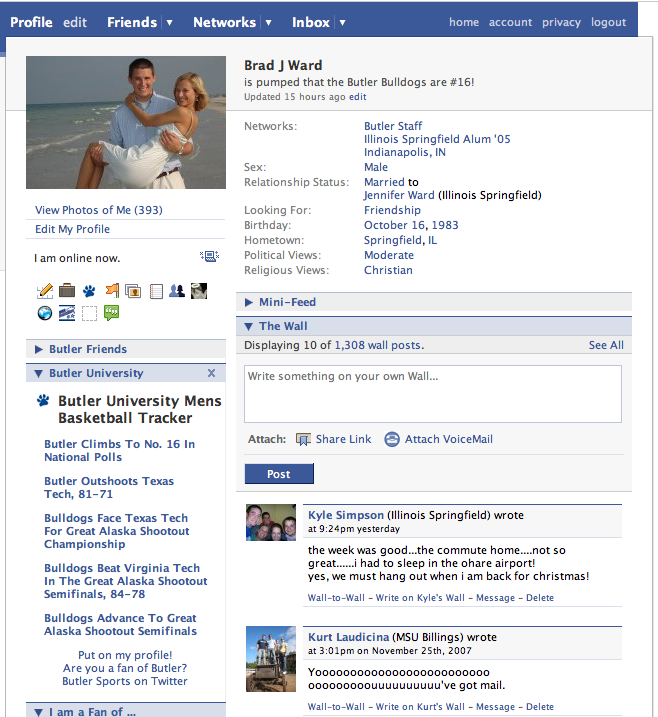 The results have been great thus far, with a 50+% growth every week, all viral.   I initially invited my 8 bloggers to add the application, and 3 or 4 of them did.  From there, they invited friends, people saw it on other profiles, I placed a few links in some Butler Facebook groups, and it just continued to grow.
There was a huge spike around the Butler/Ohio State basketball game, and has started to level off since then.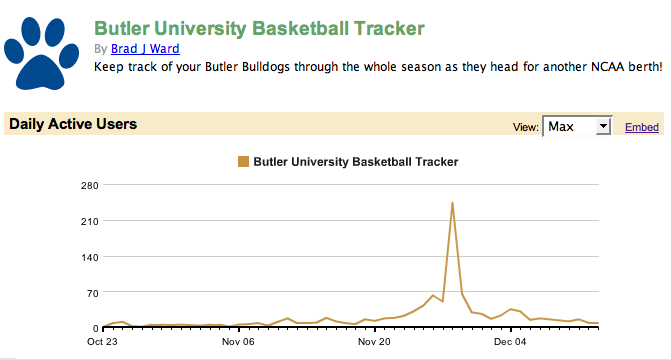 The number of users has touched a high of 570 users over the past week, and just can't quite get over that elusive 600 user mark.  Regardless, a pretty good install rate for a campus of 3,800 undergrads!

Thanks to Mike and the gang at Allegheny for their work with Facebook Apps, and their willingness to share with others!