A month ago, FJ Gaylor blogged on 'The Flutie Effect', and asked if anyone had success stories on the impact that sports can play on Admissions.
A month later, I have some stats for you. As most of you know, our beloved Bulldogs fell to Tennessee 76-71 in overtime. While it was a tough loss to swallow, getting Butler's name out there was wonderful for the Admission site.

~2900 visitors, compared to 800 on an average Sunday.


I wonder why so many people from Tennessee were checking our page out?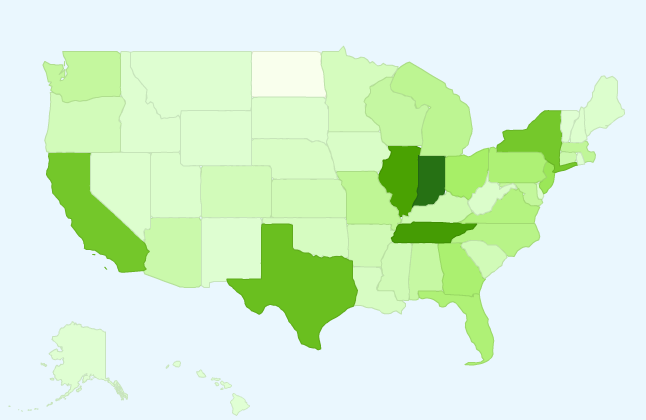 A breakdown of visitors from Tennessee:


Some of the 400+ Google searches that referred people to the Admission page: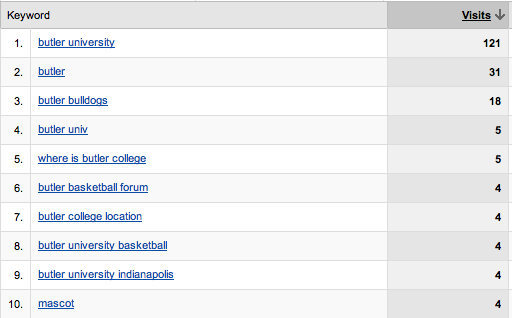 And my personal favorites:
Where is butler university?
Butler university town
Location of butler college
University of Butler
Butler college Missouri
Butler college where
Butler dog pound
Butler uniservisty <——- potential future student?
Butler university is located where
Butler university Wisconsin
Butler university, chicago
Butlier university <——- Another prospect?
How to get to butler university
In what city is butler university?
Size of butler university
Scholarships offered for butler university
The location butler university and mascot
Town of the butler bulldogs
Where is butker university <—— Yet another
Where is butler bulldogs from
Where is butler college located at
Where is butler located
Where is butler university?
What city is butler university
And for my personal favorites………….(These will both land you on our Mascot's Blog)
Does aj graves have a girlfriend
Drew streicher's girlfriend
Oh… and does anyone want to take a guess at what time the game was?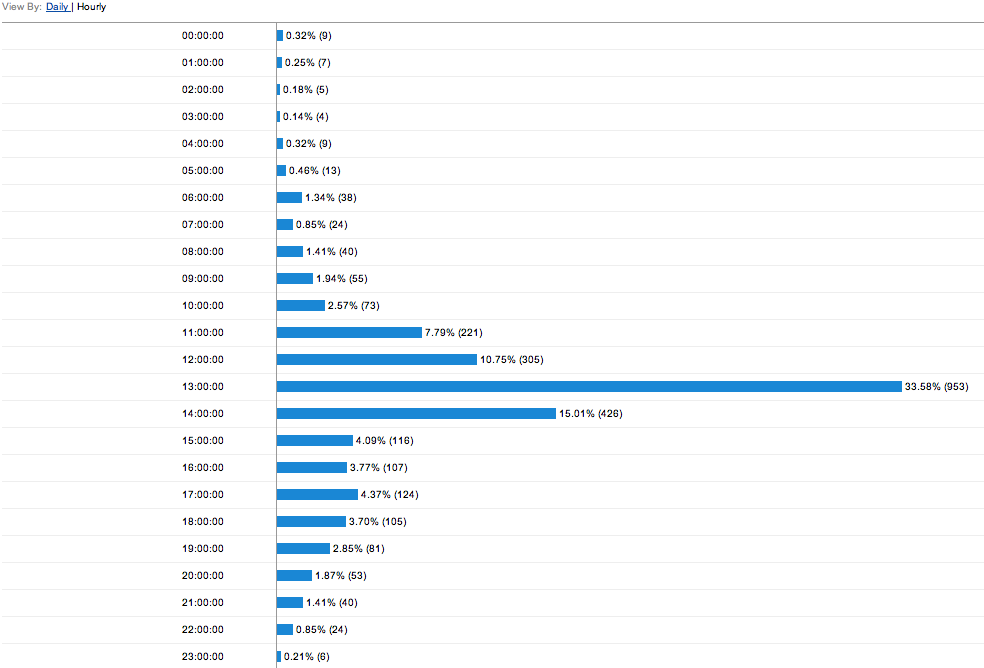 I forwarded this out to the office, and one co-worker responded: "I googled Siena this weekend to find out where they were located..
"
So there you have it. Get your sport teams into the post-season, and your website traffic will benefit greatly. The Flutie Effect gets 2 thumbs up from this guy.
OH, and for the "what's the benefit" question that will surely arise — Web Information Requests were up approximately 45% over the weekend compared to previous weekends in March, as well as this weekend in 2007 (we were also in the tournament last year at this time.)