It's really hard to believe that nearly 3 months since I first posted about the Class of 2012 group on Facebook, and 2 months since I went public with the data tracking. I mentioned on that post that I would post occasional updates, and I thought the 3 month mark would be a good one.
Here's the chart after 3 months, which is tracking Members, Wall Posts, and Discussion Posts: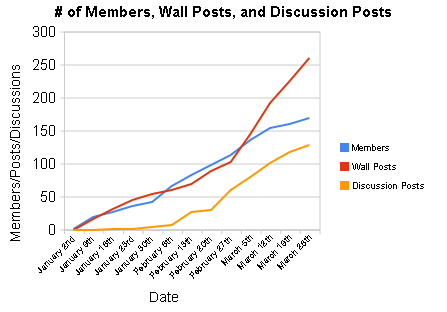 (View full spreadsheet here)
(Subscribe to spreadsheet RSS here)
(While you're at it, Subscribe to SquaredPeg here.
)
Now, some general observations. The conversation has taken what I believe is a typical course for this type of online/community interaction: Starting at "where are you from?", going to "what major", then on to "what early reg date are you going to?" and finishing with a deeper connection level, such as Roommate surveys, what dorm to live in, meeting up this summer, etc.
Looking at growth, it's been steady. We just had our first of 9 Early Registration Friday's, so as more people realize they have their @butler.edu email and talk with others, I think the group will grow more. We have also added a flyer about the Bloggers and BUForums in their packet, so I'll be tracking that group as well.
Discussion posts are starting to rise above the # of members, meaning that students are now engaging in dialogue and coming back to threads to post again.
For reference, the Butler Class of 2011 group ended with: 750 members, 2817 wall posts, and 2135 discussion posts. It'll be interesting to see how the Class of 2012 stacks up against that.
In closing, Tom at thesablog.org covered this research and left some open ended questions at the end. Here are my answers, Tom and I would both love to hear yours!
Should an official of the institution (probably someone within student affairs / admission) create groups for 2013, 14, 15?: I have considered it, but for now I think I will let the group evolve on its own.
Will students use the group if it is school sponsored?: I have seen some examples of this failing, and not many/any of it succeeding. I think it is possible, if approached correctly. What's the correct way? I'm not sure. I think it also depends on the type of school you are at and what your demographic of student is. From what I have seen, more affluent students will typically seek out these types of groups, whereas schools with a different student body will just show up in the fall and start taking classes.
Are the students who create the groups student leaders in high school? What is their motivation?: I would like to talk to the student who created the group, but they have not deposited yet (another interesting thought: what if the student who starts the group doesn't come to the school, but still has the administration over it? Refer to #1.)
Are these students willing to work with (or even be hired by) the institution to manage the group?: I don't think this would even cross their mind, but I bet they'd welcome it if approached. Again, approach delicately and consider your strategy for doing so. Would definitely be worth talking to admission counselor about the student.
Are institutions willing to give up the control and outsource the work to an incoming freshman?: I am, but I am not the instutition, just 1 component of it. I think most (90+%) institutions are oblivious that this conversation is even taking place, so in a way it's already been outsourced and is up to the students to create and cultivate the community.
Again, subscribe to the RSS to be reminded of the weekly updates, and I'll post again early summer with more thoughts and findings.