A lot of discussion lately has revolved around how/why/if/should Twitter be used in Higher Ed. While my recent research of nearly 300 incoming freshman shows that……..2 students use Twitter, I want to go back to a point that I made in my last post about this topic.
Does the student even need to know what Twitter is, or that they are using it?
Here's a freebie for you.
Twitter Text Updates. Twitter was essentially designed and built around SMS, but seems to veered from that. Let's not forget about this powerful feature. Here's my step-by-step guide to get started. I can't lay it out for you any more than this.
First, get your twitter account, such as @butleradmission. This account is where you will push updates to students from. Be specific with your account. Is it for news? Sports? Deadline reminders? Decide now and stick to it.
After you get your account, you just need to tell people how to follow and then set up your page. You will see on @butleradmission that I designed a background with the instructions on it in case anyone stumbles across it. Brand it with your school colors and logo, and fill out the short profile. After that, you're ready to go.
I highly recommend that you grab a cell phone and walk through this on your own to see it work. Basically, it goes like this: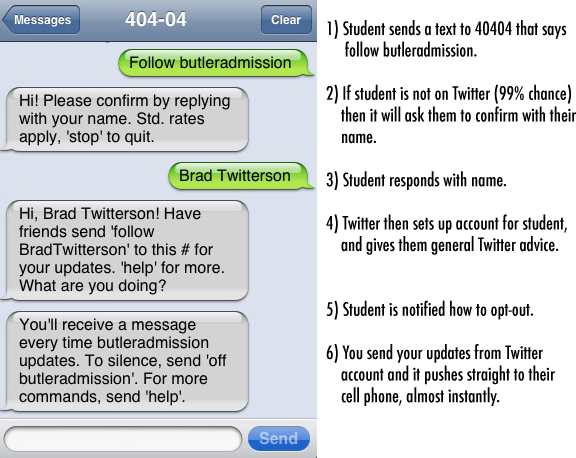 And what word is missing in all of those messages that Twitter sends? Twitter! As far as the student knows, it's just some cool thing that your school has set up. If they dig deeper, they might find that Twitter is behind all of this awesomeness, and that's fine too.
So now you are ready to start pushing text messages to them from your new twitter account.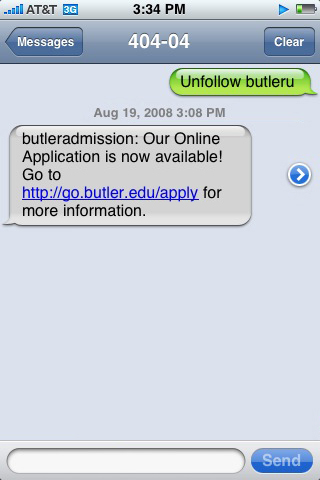 Wow. That was simple. Here are a few more things to consider.
When you go to your Twitter page, you will see the # of followers you have. This number (minus spam accounts) shows you how many students are utilizing the service.
I would suggest a page on your site that explains how to follow/unfollow. And mention that standard text messaging fees apply, ask their provider if they have questions, etc.
This service only works in the US.
Already have an RSS feed? Use a site like Twitterfeed.com to push updates without any extra work on your behalf. That's what I do for @butlersports. Haven't touched that account in 6 months. I am going to start promoting "text follow butlersports to 40404″ for updates after the game! We have an RSS feed for every sport individually as well, so if you have that and want to allow a little more personalization, then take the extra time to set up separate accounts for each feed.
Think outside of the box. The opportunities for innovation are right at your fingertips. I've did my fair amount of sharing in this post, what other ideas do you have to share with the community?