I just had to share these with everyone.  We're currently sending out a round of our 'last chance' email that I mentioned in this post last year. Here's what it looks like:

(Click image to enlarge)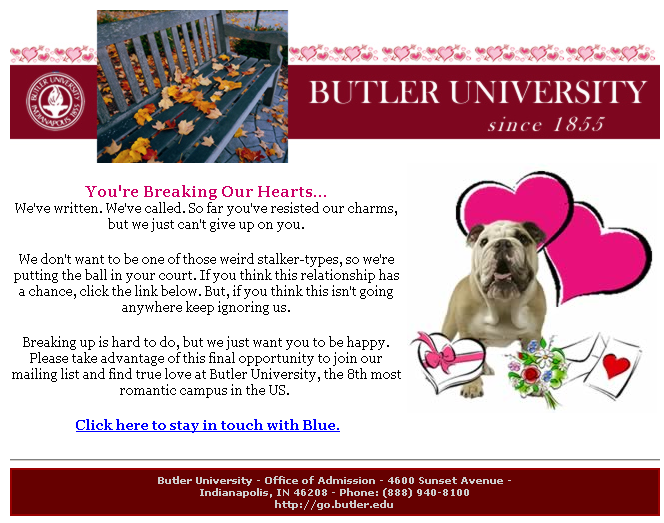 We occasionally get some funny responses in return, but this is by far the best one I've seen.
---
From: Kenneth M.
Sent: Tuesday, September 30, 2008 10:09 PM
To: Admission – Butler University
Subject: RE: Butler is 'Blue' Without You!
I'm sorry Butler it's over. I didn't want it to end this way but you leave me no choice. We've had our ups and downs but I can now see we just aren't right for each other. You see, it's….another college. I think it would be better if we just didn't see each other anymore.
Goodbye forever, and don't give up. There are plenty of fish in that great big sea of opportunity.
---
Hilarious!!! I considered putting a 'break-up' package together and mailing it to him with old emails (aka love letters) that we had sent him, a torn up picture of Blue II, etc.
Another girl responded with a witty email that deserved a witty answer.  First, hers:
---
From: Kaitie
Sent: Saturday, August 16, 2008 2:20 PM
To: Admission – Butler University
Subject: Re: Was it something we said?
I'm sorry I haven't been the romantic relationship this college seems to so desire.
It's just that I've been so busy, see? It's hard to juggle between college and homelife.
I'm sure you understand, and don't worry. You are not the stalker-type. Frankly, I felt this was a very cute email, and I appreciate the options. Though you are probably opposed to receiving emails back, I actually would like to ask one thing: Why are you only the 8th most romantic college, and what constitutes romance, in this case?
Thank you!
-Kaitie-
And the response:
---
From: Ward, Brad
Sent: Tuesday, August 19, 2008 11:35 AM
To: Kaitie
Subject: RE: Was it something we said?
Kaitie – Are you kidding!? We always love getting emails. It helps us separate humans from robots and ninjas when we make our app decisions.   Truth is, Butler Blue II is just a lonely dog and he loves to have students like you join him on campus. He also understands the juggle between school and home. You should check out his blog sometime, he is a pretty busy dog. It's at http://go.butler.edu/cs/blogs/blue2.
We are not sure why Butler is not the #1 most romantic campus in the US, if not the world. I guess we can't be the coolest at everything.. you know? Romance at BU is hard to describe, you might just have to come visit campus to experience it for yourself!
Keep BU in mind, and don't hesitate to ask any questions you might have! Thanks again for your email.
Brad
---
And here's another recent favorite in the office:
---
From: Mike ***** [mailto:mike_*****@******.net]
Sent: Saturday, August 23, 2008 11:26 PM
To: O'Rourke, Megan
Subject: RE: 'Meet Your Counselor' at Butler U.!
You obvisiously have the wrong Mike *****.  In the event this is not a fishing expedition you may want to check your email addresses.
---
And there is always the student who is signed up under their parent's email….. Unfortunately, John was listed as a junior in our system.  Whoops.
—–Original Message—–
From: Greg ***** [mailto:*****family*****@****.com]
Sent: Tuesday, September 30, 2008 12:48 PM
To: Admission – Butler University
Subject: Re: Butler is 'Blue' Without You!
Please know that John is only a sophomore so your recruitment efforts are a bit early.
---
So… you win some, you lose some.  Kenneth is forever gone.  Kaitie is now a strong prospect.  John will look at colleges when his parents decide the time is right.  And Mike? Gone fishin'.
Do you get any funny emails back from students? Parents?